Tlapannextiliztli
Introduction
In this lesson we will see the imperative form, /xi/ and /ma/, which introduce imperative expressions. The roots of the verbs for classes 1, 2, and 4 are not affected by the imperative particles, but verbs in class 3, which end in "-ia" or "-oa" lose their last vowel.
Note: The images in this lesson were created by the following people:
CC BY Sabina y Catalina Cruz
CC BY ManekiNeko
CC BY-SA Sxmuelfernandez
Tlamanextilli
Example
Rufina: Piyali.
Martha huan Angela: Piyali.
Rufina: ¿Tlen inquinequih inquicuazceh?
Martha: Quena, tohhuantin ticnequih ticcuazceh chiltlaxcalli huan etlatzoyontli.
Rufina: Cualtitoc. Huan ¿tlen tentzcayotl inquinequizceh?
Martha: Ah, tohhuantin ticnequih ce nieveh.
Rufina: Cualli, nopa tlahuel ahhuiac.
Angela: Quena, tlazcamati.
Rufina: Axtlen.
Tlahtoltecpanaliztli
Grammar
Unlike other conjugation of verbs, the imperative particles "xi-" and "ma" are constructed differently. The particle "xi-" is distinguished by its replacement of the prefix within the verb. This means that it will substitute the subject marker in the second persons singular and plural (ti / in).

The particle "ma" is separate from the verb entirely. In this case, the phrase depends on a subject marker for the first and third person singular and plural (ni, ø / ti, ø).

The conjugation of  imperative verbs are marked numerically by the suffix "ø" to mark the singular and "-can" to mark the plural.

Ma ni – (verbal base) – ø

Xi – (verbal base) – ø

Ma ø – (verbal base) – ø

Ma ti – (verbal base) – can

Xi – (verbal base) – can

Ma ø – (verbal base) – can

Nimatzin tiiitazceh tlamanextilli tlen tlachihualiztli (Next we will see examples of imperative verbs)

/moquetza/     "to sit"

  Ximoquetza     "You sit!"

  Ma moquetza     "She/he sits!"

  Ma timoquetzacan     "We sit!"

  Ximoquetzacan     "You (plural) sit!"

  Ma moquetzacan     "They sit!"

  /quiza/     "to go out"

  Xiquiza     "You go out!"

Ma quiza     "She/he goes out!"

Ma tiquizacan     "We go out!"

  Xiquizacan     "You (plural) go out!"

Ma quizacan     "They go out!"

  /tlacua/     "to eat"

  Ma nitlacua     "I eat!"

  Xitlacua     "You eat!"

  Ma tlacua     "She/he eats!"

  Ma titlacuacan     "We eat!"

  Xitlacuacan     "You (plural eat!"

  Ma tlacuacan     "They eat!"

Verbs from class 3 are those that end in "-ia" or "-oa." These verbs lose their last vowel when they are conjugated with the imperative particles, that is to say, they lose the "-a" in their present tense forms. For example:

  /maltia/     "to bathe"

Ximalti     "You bathe!"

Ma malti     "She/he bathes!"

  Ma timaltican     "We bathe!"

Ximaltica     "You (plural) bathe!"

  Ma maltican     "They bathe!"
Yancuic Tlahtolli tlen Tlamachtiliztli
New vocabulary
Tlen mooni (What one drinks)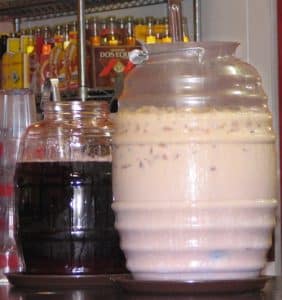 alaxoxatl     "orange juice"

  limonalt     "lime juice"

  matzahtli     "pineapple juice"

  tamarintohatl     "tamarind juice"

  zantiahatl     "watermelon juice"

  papayahatl     "papaya juice"

  mancohatl     "mango juice"

  melonatl     "melon, cantaloupe juice"

  chalchocoatl     "guava juice"

  Atolli (Corn based drinks)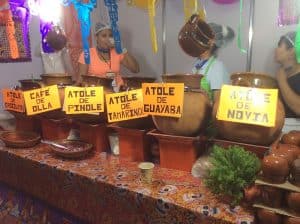 cinatolli     "corn atolli"

  tixatolli

  quequexqueatolli

  ayohatolli     "squash atolli"

  chalchocoatolli     "guava atolli"

  tamaxocoatolli

  chocolaatolli     "chocolate atolli"
Chantequitl tlen momachtianih
Practice for Students
Tequitl ce (Activity One): Conjugate the following verbs using the "xi-" and "ma" particles
choca
itta
chihua
cua
cui
Tequitl ome (Activity Two): With the same verbs from exercise 1, write two sentences using the "xi-" and "ma" particles
1.
2.
Tequitl eyi (Activity Three): Listen to the following paragraph about preparing food and then answer the following questions
Chiltlacualli
Achtohui ticmanazceh atl pan ce chachapalli. Noque totoniya ticpahpacazceh huan tictehtequizceh piyonacatl. Teipan tictemazceh pan chachapalli huan tictemilizceh achi iztatl ma ica moloni. Ticyolquixtizceh chilli huan ticmolonizceh pan ceyoc pilchachapaltzin yaz chilli anchoh, chilli huahiyoh huan huacchilli. Quemman eltocca nochi, tictemilizceh ce quezqui tomatl. Naman iucci piyo huan chilli. Nouhquiya ticcualtlalizceh arroz.
Achtohui moyectiz huan ticpahpacazceh. Quemman eltocca, mocacatzoz ica ceboiz. Teipan tictequilizceh tomatlahuatzantli, iztatl huan achiyoc atl tlen ica iucciz. Tictemohuizceh chilli huan tichuatzanizceh. Quemman titlamizceh tichuatzaniah, tictecazceh pan chachapalli campa eltoc piyonacatl. Tictemilizceh iztatl huan tlacualpahmeh: cominaz, calavoz, pimientah, ahoz huan ticmachiltiyazceh tlan cualtitocca. Teipan titlacuazceh.
1. ¿Queniuhqui itocah tlacualli tlen ica zaniloah huahcapan?
2. ¿Tlen quimanah achtohui pan chachapalli?
3. ¿Tlen quitemiliah piyo tlen eltoc pan chachapalli para ma ica moloni?
4. ¿Queniuhqui itocah chilli tlen nouhquiya momolonia?
5. ¿Tlen tlacualpahmeh motemilia chiltlacualli?
Tequitl nahui (Activity Four): Listen to the following paragraph about food in an indigenous community and then answer the following questions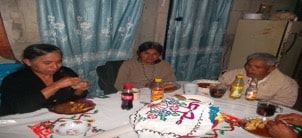 Pan cequin pilaltepetzitzin axcanah nochi oncah tlamantli tlen motequihuia pan calli. Ticpohuazceh ce tlanehnehuilli tlen pilaltepetzin tlen Tecomate. Pan ne pilaltepetzin tiquihtozceh axcanah oncah campa monamaca tlacualli, ni pampa nochi macehualmeh tlacualchihuah zan ininchan. Inihhuantin axcanah quinequih huan axcanah quiamatih zan quicohuazceh tlacualli campa quinamacah. Nouhquiya inihhuantin axcanah quichihchihuah tlacualli tlen altepetl huan axcanah mocua maz cuatlacquetl.
1. ¿Tlen Ticcuahqui yahuatzinco?
2. ¿Tlen ticcuahqui tlahcotona?
3. ¿Tlen ticcuahqui tlayohua?
4. ¿Tlen ticcuahqui yalhuaya?
5. ¿Queniuhqui ticcualtlalihqui tlen ticchauhqui?